I Introduction: The morning after and Holy Innocents
Merry Christmas! I hope you all had some great Christmas holidays with family and or loved ones, too much food and prolonged naps. I know I did. And I'm glad you came here today even though you could have also slept in or spent that extra time with your family.
But honestly, it's a little strange to meet here again, very much in a same old, same old fashion. After all, did we not just celebrate the birth of Christ, the coming of Immanuel, God-with-us, the one to make all things new? Yet here we are, barely one week later, and the world feels very much the same: there are still millions of people displaced from their homes in the biggest refugee crisis since the second world war, wars around the world and racialized police violence at home continue to kill people of color with impunity, capitalism continues to make the rich richer and the poor poorer. And human-caused climate change continues to put our very survival at stake.
Don't get me wrong, I'm not trying to say that Christmas didn't make a difference, or that the incarnation, God taking on flesh and becoming human, doesn't matter. I believe it's what matters most in all of history. But there's also some disappointment. Didn't we hope for more? Wasn't there something about "glory to God and peace on earth?" in the angels' songs? Wasn't there something about justice rolling down like mighty rivers? Wasn't that the reason for all the rejoicing and harking?
There is so much anticipation built up during Advent, all the hope for a redeemer and a radical change that it can be hard to wake up the morning after and feeling like not much has changed. So this is a sermon about the morning after.
We just heard Matthew's story of the holy family's morning after. Warned by a dream, they leave everything behind to flee from a tyrant whose fear of losing power is so great he orders a massacre of all the children in Jesus' age – just to make sure he has no contender. And while Joseph, Mary and baby Jesus can escape to Egypt, all the other children still get slaughtered. After years of exile in Egypt, Joseph has another dream and risks returning, only to find that his home is still unsafe, and settling in Nazareth, turning from refugee to an internally displaced person, to use the anachronistic vocabulary of modern international human rights law. It's a hard story, embarrassing almost. Is this what God came down to Earth for? To become a refugee and remain internally displaced? To cause a massacre of innocent children who did nothing wrong and indeed nothing at all, just happened to be born in the wrong place at the wrong time?
This story illustrates in the most drastic terms what it means for God to become incarnate—to take on flesh in this broken world that is ruled by the powers. For God to become human means to become vulnerable. For God to become human means to risk having to fly or die. For God to become human means to be powerless to prevent a massacre. This is a hard and on some days disappointing thing. Part of me doesn't want God to become human but just to take away all the pain and suffering right now, by any means necessary. Instead God became a vulnerable baby and entrusted us with to care for this baby.
We ignore this story and others at our own peril. If we don't tell the whole story, we easily forget its unsettling parts. And if we forget these parts, it is easy for other stories to take their place, masquerading as biblical truth, when they are indeed antithetical to the biblical witness.
In the context I am in—the US—it is vitally important to remind my own people, white Christians, that Jesus himself was a refugee, because many white Christians cite Romans 13 to give a blank check to the government on immigration. But I know that here at River East, I don't need to preach a whole sermon on the fact that Jesus was a refugee. I don't need to remind you that Jesus' flight to Egypt together with the countless calls throughout the bible to have compassion on the foreigner and the refugee should inform a Christian approach to immigration policies. You already know this, and even more than that, you are practicing what you preach by supporting refugees in your midst and helping people come and live here in safety by sponsoring several refugee families over the years.
II Committing to memory – #SAYTHEIRNAMES
So instead, I want us to take some time to reflect on the fact that the story of the holy family's flight only frames our reading today. At the center of our text today are dead children. Children who did nothing to deserve to die. Children who would not have died, had Jesus not been born in Bethlehem on Christmas. We need to resist the temptation to try to make this right, by saying for instance that it was necessary so we could be saved, or that it's ok because they are now in heaven. The massacre of these children is not ok, nothing can make it ok, and a religion that tries to make it ok is worth nothing.
The attempt to make a massacre ok is the logic of "collateral damage." It is the logic of empire, of a system that weighs people's lives against comfort, and profit and decides against lives.
Matthew does not use the logic of collateral damage to explain away the massacred children. He records this story when no other historian did, just like so many massacres today go unrecorded. And while Matthew interprets what happened by quoting Jeremiah, he explicitly does NOT say that this happened to fulfill a prophecy. Building on this legacy, the church does not call these children "collateral damage". Instead we call them "holy innocents" and regard them as the first martyrs. By remembering these children, we commit ourselves to their memory. The lives of these holy innocents matter, they are at the center of our text today, even if we do not know their names. There are so many names we do not know and will never know. So it's important we commit ourselves to the memory those we do know.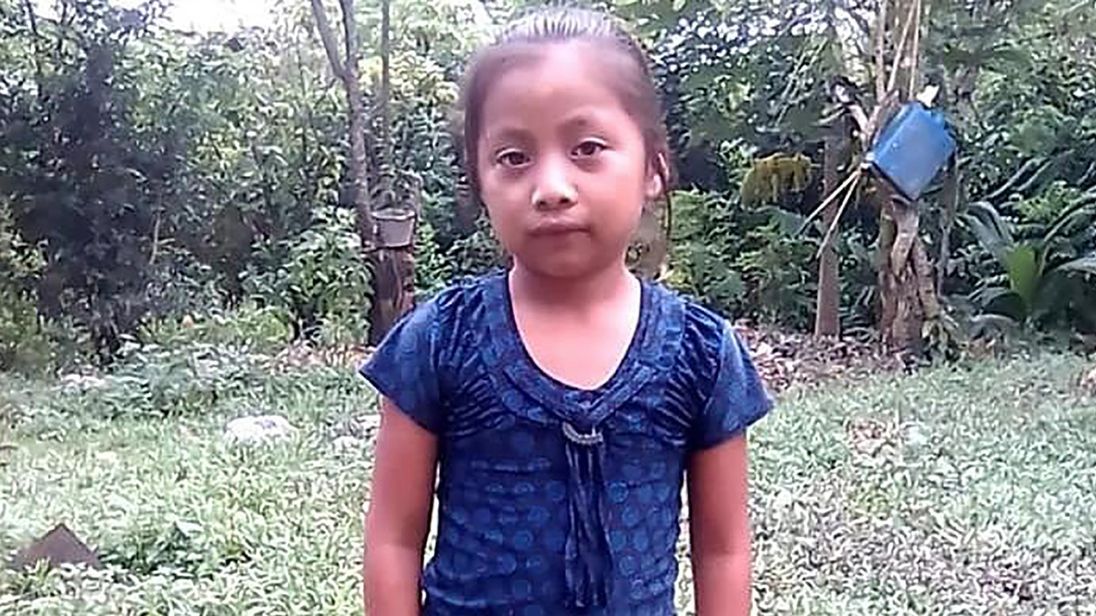 Jakelin Amei Rosmery Caal Maquin was a 7-year-old girl from Alta Verapaz Department, Guatemala. She came to the US with her father, Nery Caal, fleeing the interlocking forms of violence by colonialism, poverty, gangs, drugs, and ecological destruction in Guatemala, all of which are connected to US policies. When she came to the US, she and her father turned themselves into US Border Patrol and asked to apply for asylum. While in Border Patrol custody, she died from dehydration on Dec 8.
Felipe Gómez Alonzo was an 8-year-old boy from Huehuetenango Department, Guatemala who died in custody of US Border Patrol as well. This Monday was diagnosed with a cold and given Ibuprofen and an antibiotic. In the evening, he began vomiting and was taken back to the hospital for evaluation. He died hours later, early on Christmas Day.
Both children were indigenous, part of the Mayan nation, making their displacement and deaths their last chapter in the ongoing 500 year old story of genocide and displacement by European settler-colonialism.
I also want to talk about Alan Kurdi. Alan was from Kobane, a predominately Kurdish city
in Syria. He was three years old, when he drowned as his family tried to cross from Turkey to Greece on September 2, 2015. The picture of his disfigured body on the Greek coast swept through the global media, only to be submerged again by new news. Before they tried to cross the sea, Kurdi's family had hoped to join their relatives in Vancouver, British Columbia, where his aunt had filed for refugee sponsorship. The Harper government declined their application, forcing them to try a different way.
The deaths of Jakelin, Felipe and Alan were not massacres, no one fired a bullet or decided to kill them. Their deaths were an outworking of bureaucratic procedures, where responsibility is diffused. The Jewish philosopher Hannah Arendt called this the "banality of evil." Its a kind of violence that is invisible because it we have become so used to unseeing it, and because it is propped up by beliefs like the equation of laws with morality. At the same time, their deaths were also caused by what the Bible calls "hard-heartenedness," a condition of rulers like Pharaoh unwilling to give up power.
There are so many more names, so many more stories to tell. And we know that it is not just refugees, who die because of the hard-heartenedness and the banality of evil. In the US, black boys and men like Trayvon Martin, and Eric Garner are killed by police with impunity. Here in Canada, we could name the missing and murdered indigenous women, or the countless children who were abused or died in residential schools.
There are so many more names, so many more stories to tell, it is overwhelming. So let's take a deep breath before I name just one more group of Holy Innocents we too often leave out of our stories.
Animals, our fellow creatures, are going extinct at alarming rates. While some extinction has always occurred as a natural process, current extinction rates are between 100-1000 times the average natural rate, with up to 200 species going extinct a day, leading many biologists to argue that we humans are causing the 6th great extinction in Earth's history. According to some estimates, half of all of Earth's species will be extinct by 2100, if we do not change our ways.
Currently most of the species going extinct are insects at the bottom of the food web, which we don't notice, but depend on. Among the main reasons for species decline are habitat destruction and pesticide use for industrial agriculture. That decline, besides being a tragedy by itself, also affects the whole web of life, such as the birds', reptiles' and amphibians' diet, pollination, etc. And since we are part of this web of life, no matter how much we deny it, their extinction ultimately also affects us. Without bees, we cannot grow food. Climate change caused by our addiction to fossil fuel and the corporate profits it generates, leads to more extreme weather, desertification and floods, further multiplying the crisis of animal extinction, as well as forcing more people to flee from their ancestral homelands.
How can we commit to the memory of so many species going extinct? Nevertheless, I believe it is vital to at least say some of their names as a step on the journey to love our
fellow creatures as God loves them. In 2018, the Spix Macaw, a large parrot who lived in the Brazilian rainforest was declared extinct, along with two Brazilian songbirds: the Cryptic Treehunter and the Alagoas Foliage-gleaner and lastly the poʻouli, an insect-eating forest-bird from Hawaii was also declared extinct.
III Risking Hospitality and Disobedience
Aldo Leopold, one of the grandfathers of the ecological movement said "One of the penalties of an ecological education is that one lives alone in a world of wounds." This is a depressing statement, but profoundly true. How can we live in such a violent and broken world? It is easy to feel overwhelmed and give into despair. And there is a time for that. But today I want to leave you with an observation that my Hebrew Bible professor Safwat Marzouk made when reading the story from Exodus and the story of Matthew together.
There are many parallels between the two stories, two tyrants feel threatened by babies, both send their retainers to kill the babies. In both stories, the retainers do not act on the tyrants' orders but instead save lives. Both times they do not directly confront the tyrants, but rather act clandestinely. In both stories, innocents still die, but the brave acts of disobedience and defection still make the crucial difference creating the conditions for survival of Moses and Jesus respectively. Yet there is one crucial difference: the geographic locations are reversed. In Exodus Egypt was the place of oppression and Israel is the promised land of freedom. In Matthew's story it is the other way around.
This is a subtle suggestion that change is possible. Change is possible not just on an individual or communal level, we, the nations are able to change. We can change for the worse or for the better. Israel under Herod had become a place of oppression, worse than Egypt. Egypt on the other hand has turned from a place of oppression to a place of refuge. This is important for us to remember, especially as Anabaptists. We do not put our faith in the state. And with good reason! Our salvation comes from the LORD, in the form of a vulnerable child. But it's a small step from not putting our faith in the state to letting it off the hook completely.
While I was preparing this sermon I learned about Jordan's principle. Jordan's principle is used by Canadian public services to ensure that First Nations children can access all public services when they need them. It basically says that whoever is first in contact with the child pays, and the rest is figured out later. Jordan's Principle was established by First Nations after five-year-old Jordan River Anderson, from Norway House Cree Nation died while the federal and provincial governments were arguing who would pay for his care. It is tragic and infuriating that it took the death of a child to lead to this change, but the existence of this principle shows that is possible for the state to change and become more compassionate. What would it take for there to be an Alan Principle or a Jakelin or Felipe Principle?
There are many ways to change the nations for the better, but one way that we see in both biblical stories we heard today is in the action of small groups of people acting on their conscience. Puah and Shipra the two midwives to the Hebrews understood that Pharaoh's commands to kill the Hebrew boys was wrong even if it was legal. They chose to do what is right and saved the life of Moses and many more. The three magi understood that Herod would kill the new-born king Jesus and chose to defy his orders and leave the country another way. Let us remember them not only for their gifts to Jesus but also for defying Herod creating the delay that allowed the holy family to escape.
To close this sermon I thought it fitting to raise up the witness of one holy innocent who is still breathing and fighting to continue to do so. Greta Thunberg, a 15-year old Swedish girl learned about climate change when she was 8. The gap between her knowledge of the extent of the crisis and the lack of urgency or even attention to climate change in politics put her first into depression and then into action. This year in September when her school year started again, she decided to take the one lever of power she had and grab it with all her might. She refused to go to school on Fridays and instead sat in front of the Swedish parliament engaging passersby and parliamentarians, demanding her government act on climate change. By December she had inspired school children in Sweden, Australia, Japan and elsewhere to school strike for the climate as well. Trying to coopt her message, the politicians meeting for the climate summit in Poland invited her only to hear a scathing message. I'm reading in excerpts (read or watch the whole speech here):
For 25 years countless of people have stood in front of the United Nations climate conferences, asking our nation's leaders to stop the emissions. But, clearly, this has not worked since the emissions just continue to rise.

So I will not ask them anything.
Instead, I will ask the media to start treating the crisis as a crisis.
Instead, I will ask the people around the world to realize that our political leaders have failed us.
Because we are facing an existential threat and there is no time to continue down this road of madness.

Some people say that I should be in school instead. Some people say that I should study to become a climate scientist so that I can "solve the climate crisis". But the climate crisis has already been solved. We already have all the facts and solutions….

Today we use 100 million barrels of oil every single day. There are no politics to change that. There are no rules to keep that oil in the ground.

So we can't save the world by playing by the rules. Because the rules have to be changed.

So we have not come here to beg the world leaders to care for our future. They have ignored us in the past and they will ignore us again. We have come here to let them know that change is coming whether they like it or not. The people will rise to the challenge. And since our leaders are behaving like children, we will have to take the responsibility they should have taken long ago.
So on this morning after and into the next year, may we go out and commit ourselves to the memory of the Holy Innocents Jaqelin, Felipe, Alan, the Spix Macaw, Cryptic Treehunter and the Alagoas Foliage-gleaner, and the Hawaian poʻouli.
On this morning and into the next year, may we go out and commit ourselves to action to defend the web of life like Shiprah and Puah, and to resist like Greta.
May it be so.